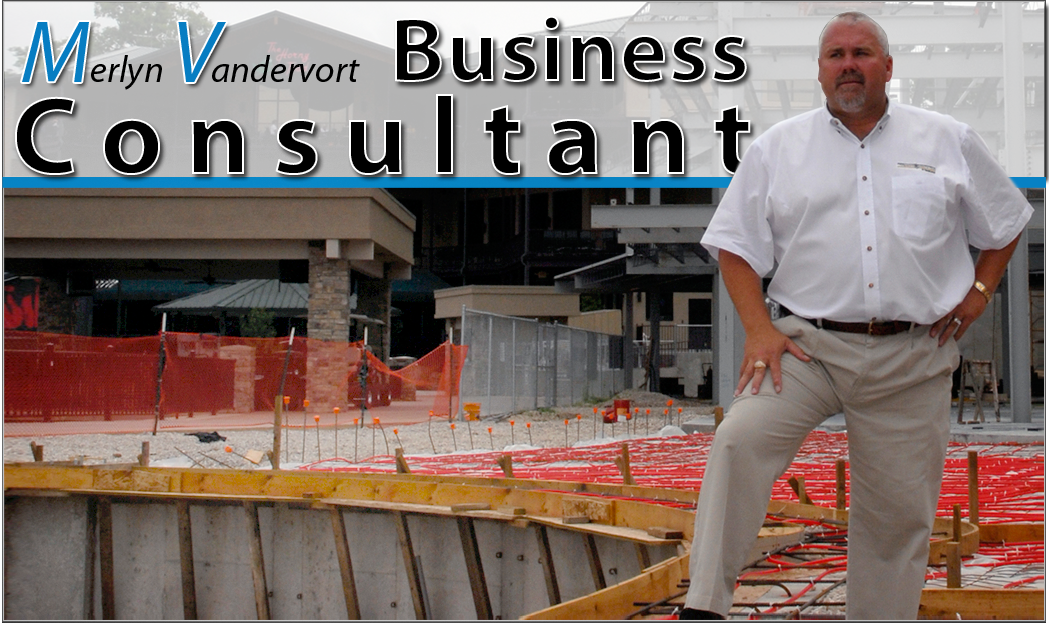 Merlyn Vandervort provides a wide variety of business consulting services, training, and seminars. With over 25 years of business and entrepreneurial experiences; Vandervort has a considerable background and knowledge of all facets of business management in; construction, real estate, retail, property management, marina's, condominium's, hotels, restaurants, and agriculture. He has founded numerous companies, acquired and sold several businesses, and employed thousands of employees. He has; built, purchased, sold, and Invested in over a hundred million dollars in real estate transactions.
"Most businesses are primarily the same; you have a product or a service that your business is trying to promote and sell to a customer; and make a profit in doing so. You have direct costs, and indirect costs; the key is to make sure that know your costs and what markup and margin you must achieve to ensure that your revenues or "sales" exceed those costs and produce an acceptable profit; and then make sure that you can reasonably meet those sales requirements; Economics 101". – Merlyn Vandervort.

Merlyn Vandervort's business management and consulting expertise includes:
Business start up and development; formulating a business plan and projections
Lender negotiations- working with Lenders in good times and in bad
Overcoming Adversity; business, economic – face the challenge, know your options
Mark up and Margins – Understanding your costs, know your numbers
Business acquisitions – buying and selling a company; what to know and look out for
Marketing, Advertising and Promoting – Build a Brand - what works, and what doesn't
Business Management, and Employee – Customer Relations
Motivational Seminars – "Make It Happen" Success doesn't happen by accident"
Sales Training
Restaurant & Hospitality Management
Distressed Business Revitalization
Distressed Property Rehabilitation
Construction Management & Development
Construction Cost Estimating & Training
Expert in Repairing or Rebuilding Property Damaged by Fire, Flood & Natural Disasters.
Expert in estimating the cost of construction, or to reconstruct damaged property.
Over 80% of all new businesses fail within the first five years! One of the biggest problems that many small business owners face is that they know a lot about their "trade" if you will, but not nearly enough about numbers, or running a business. You can be the greatest Chef in the world, and if you don't know a lot about accounting, and "business management"; you wouldn't have the necessary skills to own and operate a successful restaurant without professional assistance. The same holds true for most all businesses; you could be the greatest Carpenter or Painter in the world, but that doesn't give you the necessary business skills to successfully run a construction company. A wise business entrepreneur will recognize their strengths, and their weaknesses, and seek out the right professionals to help overcome this dilemma, and ensure the future growth and success of their business.
"The one thing that separates people who achieve success, and those who don't, is the ability to; "make it happen!" Get up every day with a concerted direction and a goal; move forward tirelessly to accomplish that goal; when adversity arises, don't bury your head in the sand; face it head on, and overcome it. Become the expert in your field; be the "go to person who gets things done!" Individuals who understand this, and possess or develop the ability to make things happen; will undoubtedly be successful; those who don't will likely struggle in their plight to achieve success." - Merlyn Vandervort.